Berjaya Retail Berhad - Corporate Profile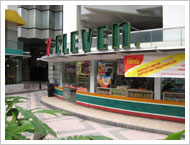 B-Retail was incorporated in Malaysia on 8 June 2010 under the Companies Act 1965 as the vehicle for the listing of 7-Eleven and Singer on the Main Market of Bursa Malaysia Securities Berhad. On 14 June 2010, B-Retail acquired the entire equity interests in Singer and 7-Eleven.
B-Retail is principally involved in the following businesses:-
operation of a chain of convenience stores via 7-Eleven Group; and
marketing and direct selling of consumer durables with installment option schemes via Singer Group
7-Eleven Group was incorporated in June 1984 and on 20 December 1986, the Group was granted the rights to develop and operate 7-Eleven convenience stores and grant subfranchises to franchisees to operate 7-Eleven convenience stores in Malaysia and Brunei Darussalam. Currently, there are more than 1,100 7-Eleven stores throughout Malaysia.
The history of the "Singer" brand name in Malaysia started in 1906 with the opening of the first branch office by the Singer Sewing Machine Company of the USA. Todate, Singer's portfolio of products has extended to a diversified range of home appliances, furniture as well as motorcycles. Currently, Singer has approximately 3,500 independent sales agents and a total of 561 branches operating under the "Singer" brand name in East and West Malaysia.
By consolidating both 7-Eleven and Singer under one company, B-Retail effectively achieve optimum diversification through reaching out to different target markets with different product offerings. B-Retail ensures that its business not only has a growth driver in 7-Eleven but also stable and consistent income generator in Singer.