Berjaya Retail Berhad - Our Businesses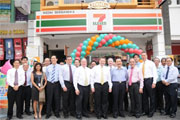 7-Eleven Malaysia Sdn Bhd
7-Eleven Malaysia Sdn Bhd, a wholly owned subsidiary of B-Retail, is the owner and operator of 7-Eleven convenience stores under "7-Eleven" brandname in Malaysia. 7-Eleven Malaysia is the largest 24-hours convenience store operator in Malaysia with over 1,100 stores which serves more than half a million customers daily.
The company was granted the right to establish and operate 7-Eleven convenience stores and to grant sub-franchises to franchisees who will operate 7-Eleven convenience stores solely in Malaysia and Brunei Darussalam.
In 2009, upon achieving its 1,000 mark in stores network, 7-Eleven Malaysia opened its door to local entrepreneurs through its unique franchising program.
Currently, a 7-Eleven store carries approximately 2,200 types of products which is customized to meet the needs of the community it serves while maintaining the Group's overall 7-Eleven store theme.
For more information, please visit
www.7eleven.com.my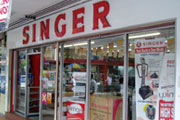 Singer (Malaysia) Sdn Bhd
Singer engaged in the marketing and direct selling of consumer durables through "Singer" branches and sales agents. The Group operates a total of 561 Singer branches throughout Malaysia of which 135 branches are operated directly whilst the remaining 426 are operated by authorised sales agents. There are approximately 3,500 independent sales agents engaged in selling Singer's consumer durables.
Singer's sales force, comprising employees and sales agents, utilise direct face-to-face contact with prospective customers to generate sales. Face-to-face contact is usually established at the prospective customer's home, place of employment or in public places such as shopping centres. In addition, Singer has branches which also act as retail outlets. The direct selling channel is not a multi-level marketing sales channel, as employees, authorised sales agents and independent authorised sales agents do not receive any incentive to recruit additional salespeople.
Singer is currently engaged in direct selling the following types of consumer durables:-
home appliances such as televisions, air-conditioners, home theater systems, refrigerators and washing machines under the "Singer" brand name as well as third-party brand names;
motorcycles;
sewing machines for household and commercial use under the "Singer" brand name as well as third-party brand names, and sewing accessories and merchandise;
furniture; and
other consumer durables such as personal computers, water filtration systems and health equipment.
Singer offers qualifying customers financing services to finance the purchase of consumer durables and motorcycles from Singer. Qualified customers can make payments for their purchase of motorcycles via hire-purchase schemes or purchase of consumer durables via equal payment schemes.
For more information, please visit
www.singer.com.my